John Legend gives a brilliant reply when Donald Trump Jr. questions why his father had protesters.
In case you missed it, Chicago was filled with pandemonium after the Donald Trump rally was cancelled. There were several fights and many people were arrested. You can view some of the mayhem here.
Donald Trump Jr. commented on the Chicago debacle that was caused by the cancellation of the rally.
Ha 5 students when asked why they were protesting couldn't even answer. The participation medal/micro aggression generation is pretty sad!

— Donald Trump Jr. (@DonaldJTrumpJr) March 12, 2016
John Legend gave a very simple response.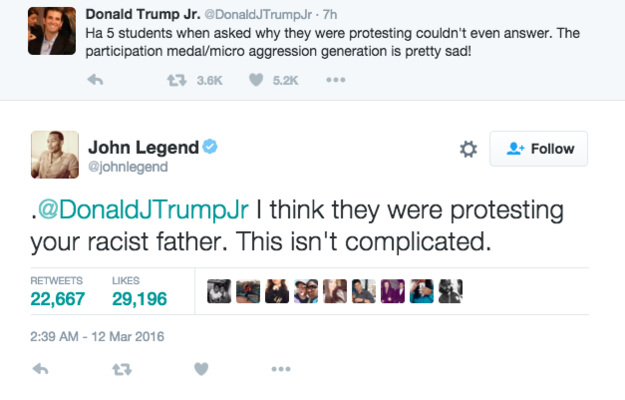 People on Twitter were beyond pleased with his comment.
@johnlegend@DanielT03571138@DonaldJTrumpJr Lord….the levels to this clapback

— pimp pimp… (@NathanZed) March 12, 2016
Even his wife, Chrissy Teigen stepped in to applaud her man.
@johnlegend got em

— christine teigen (@chrissyteigen) March 12, 2016
What are your thoughts? Do you think Donald Trump is racist?