The appalling disparity between the sentences Black cops who kill receive and the little to no time time served by white cops who kill seem to go alarmingly unnoticed by the general public.
Atlanta, Georgia – A judge sentenced a former East Point police officer to LIFE in prison for the Taser murder of a handcuffed man.
On Friday, Marcus Eberhart, the commanding officer, was found guilty of  felony murder and other charges.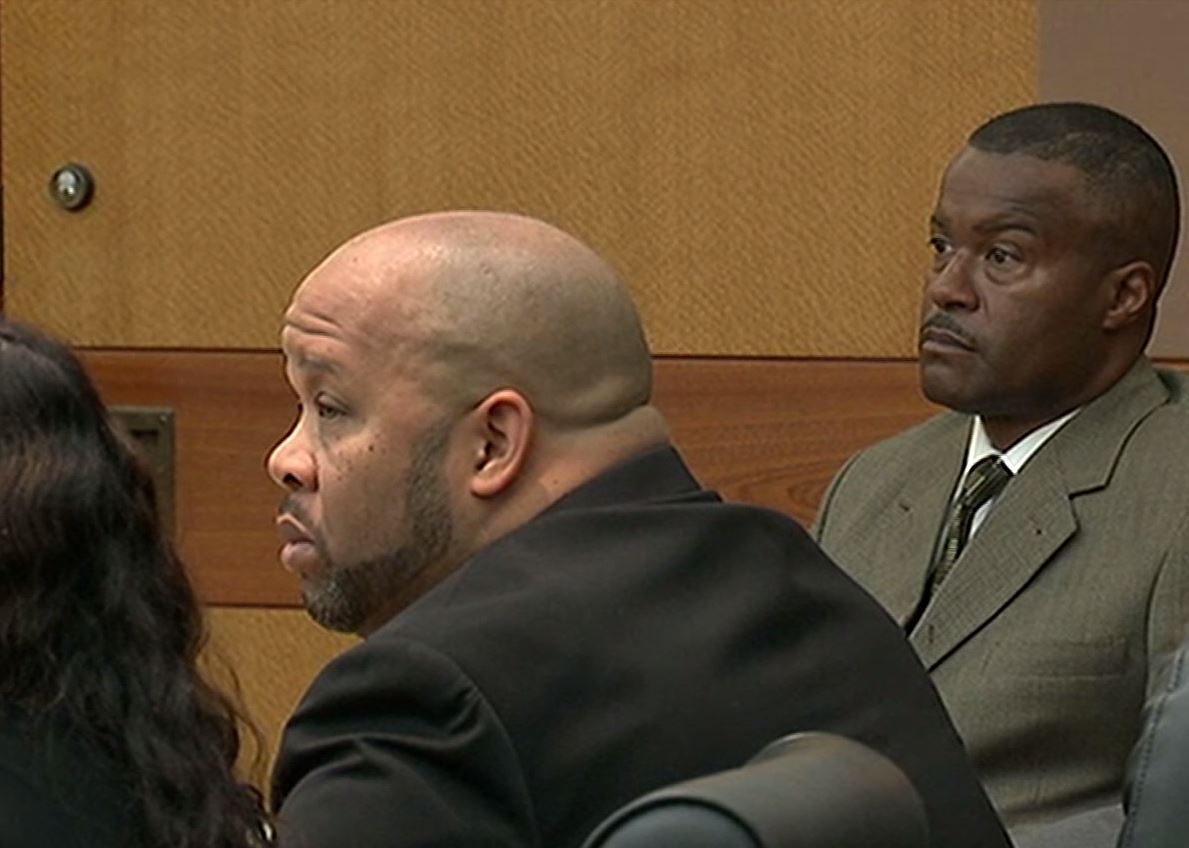 A judge sentenced Eberhart to life in prison with the possibility of parole after 30 years for the felony murder and aggravated assault charges. He has a concurrent sentence of five years for the violation of oath of office.
Howard Weems, a second officer charged in the case, was found guilty of involuntary manslaughter, reckless conduct and several other lesser charges. He was found not guilty of felony murder and aggravated assault.
Weems was sentenced to five years in prison, with 18 months to serve on the involuntary manslaughter and reckless conduct charges. He is sentenced under first-offender status, so pending the completion of his sentence, which includes probation, the felony status could be dropped.
During his probation, he will have to speak to law enforcement recruits about the dangers of excessive force.
The two former East Point police officers are accused of killing a handcuffed man, Gregory Towns, 24, with their Tasers in 2014.
Eberhart ordered the suspect to be shocked with a Taser because he was not following commands to get off the ground and walk to a patrol car.
Prosecutors said they used a Taser on Towns 13 times while handcuffed.
A witness photographed former East Point police officers, Cpl. Howard Weems and Sgt. Marcus Eberhart, as they tried to get Gregory Lewis Towns Jr. to stand after they chased him. (HANDOUT photo provided by Chris Stewart.)
The defense said the cops did what they were supposed to do.
"All of these were lawful orders that law enforcement were in their right to do," said defense attorney Sandra Michaels. "They had the right to tell him to stop running. They had the right to tell him he was going to be arrested. They had the right to tell him he was going to jail. They had the right to tell him to get up and walk to that patrol car because we cannot lift you."
Defense lawyers say the officers were fully within their right to use their stun guns because he was passively resisting when they told him to get off the ground and walk to the patrol car.
"What Mr. Towns was doing was actively resisting a lawful order, which gave Officer Eberhart authority to use the dry stun mode," defense attorney Sandra Michaels told Channel 2's Tom Regan.
Luckily the jury sided with the prosecutors.
Towns,  died April 11, 2016, after a confrontation with the officers. According to Towns' family attorney, Chris Stewart, Towns was not resisting arrest when was stunned repeatedly with Tasers while handcuffed shortly before dying.
Towns was 6 feet 6 inches tall and weighed more than 250 pounds. When they ordered him to get up and walk to the patrol car, he said he was tired and couldn't get up. The officer then used their stuns guns on the suspect to get him to move.
The prosecutor said as a result of the repeated electric shots, Towns died.
"It's not that Mister Towns was being obstinate, that he just wasn't obeying the commands of the officers," said prosecutor Melissa Redmon. "He couldn't get up he,,, he couldn't walk fast enough to satisfy these defendants."
An undisclosed sum of up to $1 million was paid by the city to the 7-month-old son of Gregory Towns.
For some reason, Black cops think they can get away with murder, not understanding the law won't protect them the way they would non-black cops or a George Zimmerman.
WATCH NEWS COVERAGE BELOW: