I'm about to tell you a story of why it's better to get married instead of just shacking up.
Back in September, the parents of Terence Crutcher and the mother of three of his kids entered a courtroom to fight over who can file a wrongful death lawsuit on his behalf.
Joey and Leanna Crutcher, the parents of the unarmed Black man killed on Sept. 16 by a white Tulsa police officer, alleged in court filings that his wife, Frenchel Renae Johnson-Crutcher, is unqualified to serve as special administrator of Crutcher's estate.
Despite a county judge appointing Johnson-Crutcher as the special administrator, the Crutchers' attorneys said that she should have been ruled out because she and Terence Crutcher were never officially married. They added that Johnson-Crutcher has prior felony convictions and is not the legal guardian of her children — Terence's parents are.
MARRIAGE IS POWER
Whoever is named special administrator has the authority to file a wrongful death lawsuit against the city, which could be for millions.
Lawyers for the Crutchers also argued that Johnson-Crutcher's legal past — which includes assault and battery and other charges in a stabbing last month — prohibits her from serving as special administrator. She was convicted for a DUI in 2007.
Johnson-Crutcher's lawyer fired back that she has been married to Crutcher, 40, for 16 years.
If the judge ruled Johnson was Crutcher's common-law wife, she stood to inherit half of his estate, including any proceeds from a civil lawsuit over his death. The estate also includes about $150,000 raised in a GoFundMe account.
The account originally had more than $167,000 in it until Terrence's twin sister, Tiffany Crutcher, transferred a portion of the funds into her own bank account in September. GoFundMe collected a percentage of the donations, leaving the account at $150,000.
COMMON LAW MARRIAGE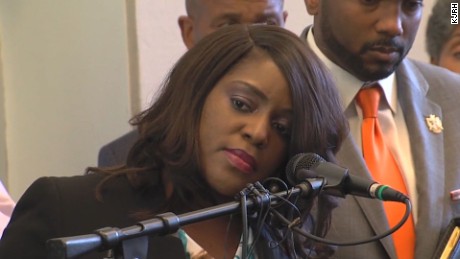 Tiffany Crutcher, was also the first witness to take the stand at Wednesday's hearing, focusing on where her brother lived and whether he ever presented himself as married.
Tiffany said her family takes marriage seriously and holds it in high regard. Her parents have been married for almost 40 years.
She said her brother was never married to Johnson, and she would have known if he was because they had a tight-knit family.
According to Read Frontier, Tiffany testified and argued that the couple wasn't exclusive. She recalled her twin having another girlfriend in 2005, who lived with Terence Crutcher and their parents for about a year. Her brother also had an on-again, off-again relationship with another woman up until his death, she said.
Similar to the first day of the hearing, attorneys referenced posts the couple made on Facebook.
Solomon-Simmons pointed out a photo Johnson posted in 2015 with the caption "Pic of my husband and I."
Tiffany Crutcher told the court she was familiar with the photo and asked her twin about it. She said her brother told her "I'm not marrying that girl."
Attorneys for Joey and Leanna Crutcher also brought up several times Johnson didn't use the Crutcher name until after Terence Crutcher died.
Joey and Tiffany Crutcher both testified the first time they saw her use Johnson-Crutcher name was on TV during a press conference with Johnson's attorney.
"We were blown away," Tiffany Crutcher said.
Terence Crutcher proposed to Johnson in 2012, but told his father he had no intentions of marrying her. His father, a preacher, was pissed.
Terence Crutcher's father, Joey Crutcher, referred to Johnson as his daughter-in-law in a recorded discussion at a law office. He also said he bought Terence Crutcher a ring to give to Johnson. The wedding ring that had their names engraved in the band, which he said she "proudly" wore as as a symbol of their marriage.
Crutcher lived with Johnson and did not pay child support. During that time Johnson received welfare benefits.
After the hearing concluded, Johnson said through tears that she hasn't had time to process Crutcher's death because of the pending legal battle.
"I love my husband, and I always will, and his family knows that," she said. "I just don't understand."
"Everybody's making it seem that it's over money, and it's not over money, and I just feel that that's so wrong," Johnson said. "I just want what's right for me and my kids. I'm not trying to cut (Crutcher's) mom and dad out of anything. I never said that."
TERRENCE CRUTCHERS KIDS

Terence Crutcher's parents have legal custody of Johnson's three children.
In the court papers, the Crutchers claim they've had physical custody of the couple's children—ages 4, 11, and 15—for most of their lives. They also claim to have custody of Johnson's 17-year-old son, who was raised by Terence Crutcher.
However, it should be noted at the time of his death Johnson was in jail and found out about his homicide on the news. The family didn't mention her and refused to bail her out of jail. She was in jail because she threatened to stab her neighbor with a knife.
"Rev. and Mrs. Crutcher care about Ms. Johnson and encourage her to spend time freely with her children and the Crutcher family," the filing concludes, before claiming the mother "is disqualified" from serving as estate administrator.
In a Sept. 19 petition for guardianship, Joey Crutcher states that his grandchildren have lived with him off and on for three years because of an "unstable environment at home."
"Frenchel drinks heavly [sic] and the children should not be exsposed [sic] to the fighting and fussing that comes with that life," Crutcher said in the petition.
In a conversation that was recorded at the law office of Dan Smolen, Crutcher's father said that he would like Johnson to get her kids. He said that he and his wife were getting old and didn't want to take care of kids forever.
But Joey Crutcher was caught lying on the stand more than a few times.
"Sometimes you have to lie when people deceive you, even when you're a reverend," he told Smolen.
THE JUDGES RULING
In December 2016, a Tulsa County judge ruled the mother of Terence Crutcher's children was not his wife.
Judge Kurt Glassco ruled Frenchel Johnson was not Crutcher's common-law wife and named Crutcher's children as his heirs.
Crutcher and Johnson were in a 14-year relationship, but the judge says both Crutcher and Johnson listed themselves as "single" on several documents, adding that Johnson received benefits for being "single" that she might have been denied if she had been married.
The judge said Johnson and Crutcher used different addresses, the utilities and lease were in her name alone, the couple had separate bank accounts and he referred to himself as single.
The judge named Crutcher's three children to be his heirs and said his step-child was not adopted and will not be an heir.
The judge ordered Austin Bond, a neutral attorney, to continue managing the estate going forward.
In order to have a common law marriage in Oklahoma, the two people must mutually agree they are married, share a common residence and show publicly they are married.
Now the kids are heirs to his estate, which means that under the law the kids are the official party to bring standing to sue.
THE LESSON
That quote above sounds good, but in actuality when it comes to legal proceedings and getting financial benefits from the death of your deceased husband, that marriage must happen on paper.
Terrance Cutcher's girlfriend thought marriage happened in the heart and not on paper, except when she went to court to represent her estate, the court told her she wasn't the wife.
After the court proceedings, Johnson said:
"We were married, We just didn't walk down the aisle."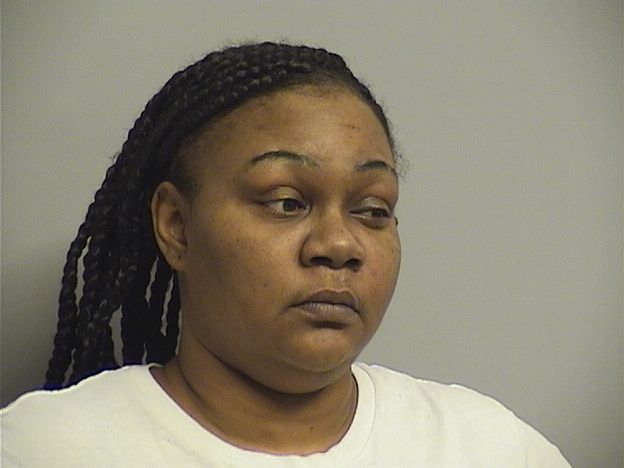 Two months later, on Valentines day of 2017, Frenchel Johnson wrecked her car and was arrested for possession of a controlled substance.
She reportedly told the paramedic she had had alcohol, unprescribed medication for depression and had smoked a "happy stick." A cigarette in her purse tested positive for PCP.  PCP was also found in Crutcher's system when he died…
It's no surprise that she's depressed and severely stressed out… She keeps making bad decisions.